#{title}#{text}
#{title}#{text}
#{title}#{text}
#{title}#{text}
#{title}#{text}
0
added to delivery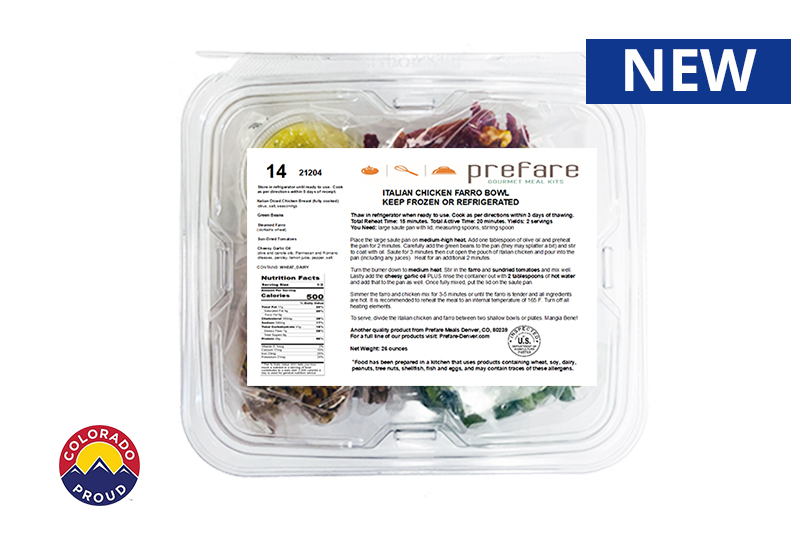 Italian Chicken Farro Bowl
$13.99
2 Servings
Quick and Healthy Meal
Italian marinated diced chicken breast is sautéed with green beans, sun-dried tomatoes, garlic herb oil and steamed farro to make a quick and healthy meal. Cooking time: 15 minutes. Suggested servings: 2
You Need: large saute pan with lid, measuring spoons, stirring spoons

1) Place the large saute pan on medium-high heat. Add one tablespoon of olive oil and preheat the pan for 2 minutes. Carefully add the green beans to the pan and stir to coat with oil. Saute for 3 minutes then cut open the pouch of Italian chicken and pour into the pan (including any juices). Heat for an additional 2 minutes.

2) Turn the burner down to medium heat. Stir in the farro and sundried tomatoes and mix well. Lastly add the cheesy garlic oil PLUS rinse the container out with 2 tablespoons of hot water and add that to the pan as well. Once fully mixed, put the lid on the saute pan.

3) Simmer the farro and chicken mix 3-5 minutes or until the farro is tender and all ingredients are hot. It is recommended to reheat the chicken to an internal temperature of 165 F. Turn off all heating elements.

4) To serve, divide the Italian chicken and farro between two shallow bowls or plates. Enjoy!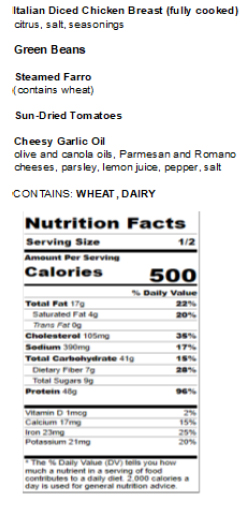 Customers also added these items