#{title}#{text}
#{title}#{text}
#{title}#{text}
#{title}#{text}
#{title}#{text}
0
added to delivery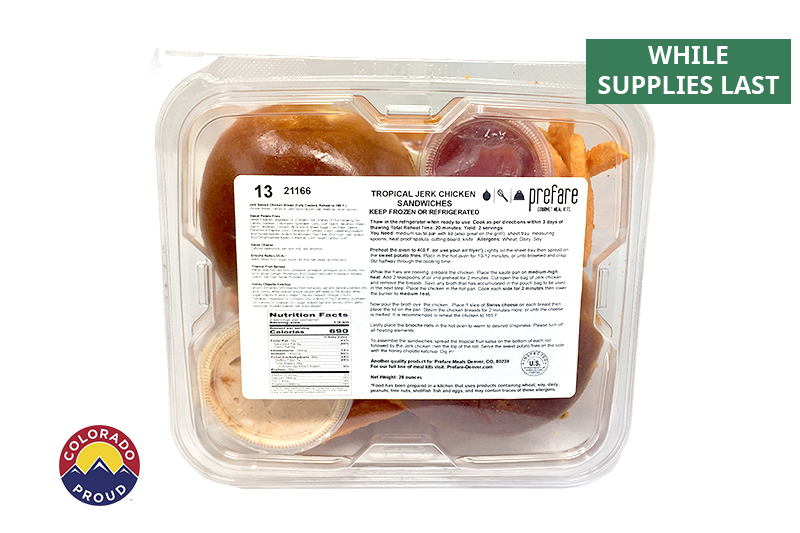 Prefare - Tropical Jerk Chicken Sandwiches
$14.99
2 Servings
While Supplies Last!
Perfect for the grill, oven, or air fryer!
Mildly spiced and flavorful Jerk chicken breast is topped with melted Swiss cheese and served on a toasted brioche roll with a tropical fruit spread. Served with crispy sweet potato fries and a signature Prefare house-made honey chipotle ketchup. Perfect for the grill, oven, or air fryer! Cooking time: 15 minutes.
Total reheat time: 20 minutes
Yield: 2 servings
You need: medium saute pan with lid (also great on the grill), sheet tray, measuring spoons, heat proof spatula, cutting board, knife

Preheat the oven to 400 F (or use your air fryer). Lightly oil the sheet tray then spread on the sweet potato fries. Place in the hot oven for 10-12 minutes, or until browned and crisp. Stir halfway through the cooking time.
While the fries are cooking, prepare the chicken. Place the saute pan on medium-high heat. Add 2 teaspoons of oil and preheat for 2 minutes. Cut open the bag of jerk chicken and remove the breasts. Save any broth that has accumulated in the pouch bag to be used in the next step. Place the chicken in the hot pan. Cook each side for 2 minutes then lower the burner to medium heat.
Now pour the broth over the chicken. Place 1 slice of swiss cheese on each breast then place the lid on the pan. Steam the chicken breasts for 2 minutes more, or until the cheese is melted. It is recommended to reheat the chicken to 165 F.
Lastly place the brioche rolls in the hot oven to warm to desired crispiness. Please turn off all heating elements.
To assemble the sandwiches, spread the tropical fruit salsa on the bottom of each roll followed by the Jerk chicken then the top of the roll. Serve the sweet potato fries on the side with the honey chipotle ketchup. Dig in!
Ingredients:


Jerk Spiced Chicken Breast (Fully Cooked. Reheat to 165 F.): chicken breast, canola oil, Jerk Spice (spices, salt, dextrose, onion, silicon)
Sweet Potato Fries: Sweet Potatoes, Vegetable Oil (Contains One Or More Of The Following Oils: Canola, Soybean, Cottonseed, Sunflower, Corn), Corn Starch - Modified, Potato Starch - Modified. Contains 2% or less of Brown Sugar, Corn Fiber, Dextrin, Extractive of Paprika (color), Extractive of Turmeric (color), Leavening (Sodium Acid Pyrophosphate, Sodium Bicarbonate), Pea Fiber, Rice Flour, Salt, Sodium Acid Pyrophosphate Added To Maintain Color, Sugar, Xanthan Gum.
Swiss Cheese: Cultured pasteurized part-skim milk, salt, enzymes
Brioche Rolls-LOCAL! City Bakery: water, bread flour, sugar, butter, dry milk, salt, yeast, asorbic acid
Tropical Fruit Spread: mango, peaches, red onion, pineapple (pineapple, pineapple juice), honey, lime juice, ginger (Ginger, Phosphoric Acid, Sodium Benzoate, Potassium Sorbate), cilantro, salt (Salt, Yellow Prussiate of Soda)
Honey Chipotle Ketchup: ground tomatoes (Vine-ripened fresh tomatoes, salt and naturally derived citric acid), honey, white distilled vinegar (diluted with water to 5% acidity), white sugar, chipotle in adobo (Water, Chipotle Peppers, Vinegar, Onions, Tomatoes, Vegetable Oil (Contains One Or More of The Following: Sunflower Oil, Canola Oil, Soybean Oil), Sugar, Iodized Salt and Spices), onion, garlic, celery salt, mustard powder, salt, black pepper
Allergens: Wheat, Dairy, Soy *Food has been prepared in a kitchen that uses products containing wheat, soy, dairy, peanuts, tree nuts, fish, shellfish, and eggs, and may contain traces of these allergens.
Customers also added these items