#{title}#{text}
#{title}#{text}
#{title}#{text}
#{title}#{text}
#{title}#{text}
0
added to delivery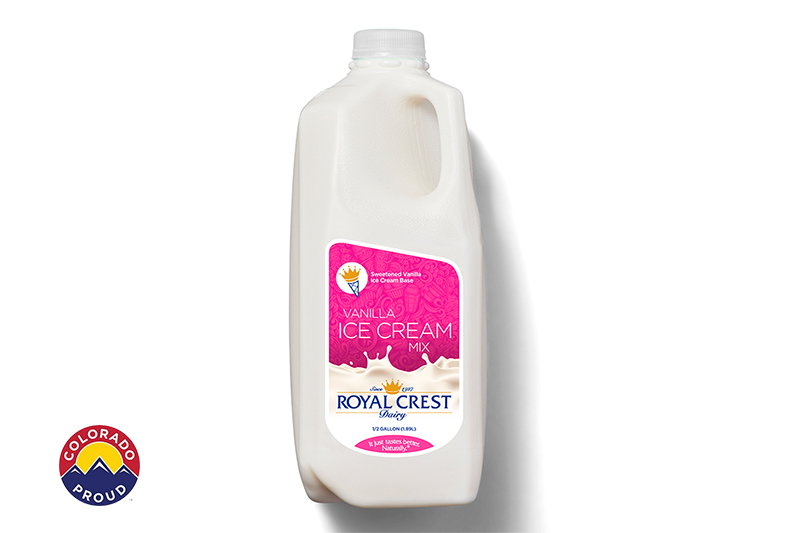 Royal Crest Dairy Ice Cream Mix
$8.99
HG
This mix is ready-made and is the key to making ice cream shop quality ice cream at home! Use it as a base exactly as it is, to churn creamy vanilla ice cream or add your favorite flavors to make your family's new favorite dessert this summer. Don't have an ice cream maker? See our Storage Tips tab for directions on preparation with or without a ice cream maker, and the Recipe tab for some fun add in options. Have fun and enjoy this wonderful mix to make your own ice cream at home.
Methods for Making Ice Cream:
Ice Cream Maker:
Pour Ice Cream Mix into your machine and follow directions according to your specific machine.
Plastic Bag Method:
Place the Ice Cream Mix in a quart size bag, squeezing out as much air as possible and seal tight. Place this bag inside another quart size bag, squeezing out as much air as possible and seal tight as well. Put these bags inside a gallon size bag and fill with 4 cups of ice then sprinkle with 4 tablespoons of coarse salt. Squeeze out all the air and seal tight. Wrap the bag in a towel or use gloves to keep your hands warm, and shake the bag vigorously. Massage the bag to make sure the ice surrounds the ice cream mix evenly. Shake for 15-30 minutes or until the ice cream is frozen. The more vigorously you shake the mix, the smoother your ice cream will be.
Freeze and Stir Method:
Place the Ice Cream Mix in a deep stainless steel baking dish and freeze for 45 minutes. As it begins to freeze near the edges, remove from the freezer and stir with a whisk or spatula. Smooth out and return to the freezer. Continue to check the mixture every 30 minutes, stirring as the mix is freezing. If you have a hand held mixer or blender you can use those as well. Repeat this process for 2-3 hours, or until frozen to your liking.
Jar Method:
Pour Ice Cream Mix in a jar, filling to about ¾ of the way. Seal tightly with a lid. Shake until Ice Cream Mix begins to thicken, freeze for about 3 hours.
Freeze and Blend Method:
Pour Ice Cream Mix into ice cube trays and freeze. Remove and place frozen Ice Cream cubes into a blender, you can add a little more Ice Cream Mix at this stage if desired. Pour mixture into a freezable container and freezer for 3 hours until firm.
Ice Bath and Hand Mixer Method:
Fill an extra large mixing bowl with ice 4 cups of ice and 4 tablespoons of course salt (or ice cream salt). Place a second smaller bowl inside the larger bowl and fill ¾ of the way with Ice Cream Mix. Mix with a hand mixer until it becomes thick and freezes. Place the bowl directly into the freezer to finish the freezing and let freeze for 45 minutes.
To Change it up, try with these mix in options:
Start with 3-4 cups of Ice Cream Mix then add the following:
*Note: heavier add-ins will sink, so add them after ice cream starts to stiffen to ensure even distribution*
Mint chip
1 teaspoon peppermint extract + 1 cup mini chocolate chips + green food coloring
Peanut Butter/ Nutella / Cookie Butter
1/2 cup to 1 cup spread
Cinnamon Roll
3 tablespoons butter, melted + 1/2 teaspoon cinnamon
Caramel or Dulce de Leche
1/2 – 1 cup caramel drizzled over the almost frozen mixture, stir to break up the ribbon a bit. Add a teaspoon of sea salt and/or a few tablespoons of bourbon for a gourmet touch!
Chocolate
3/4 cup cocoa powder (sifted) + 4 ounces melted cooled chocolate
Rocky Road
1 cup chocolate syrup + 1 cup mini marshmallows + 1 cup toasted almonds swirled into ice cream
S'mores
10 graham crackers, crushed + 1 Hershey's bar, chopped + 1/2 cup marshmallow fluff
Mocha
1/2 cup cocoa powder (sifted) + 2 tablespoons instant espresso powder
Cookies & Cream
15 Oreo cookies, coarsely chopped
Blueberry swirl
2 cups fresh blueberries + 3 tablespoons sugar + 2 tablespoons lemon juice cooked in a small saucepan over medium-high heat until burst. Chill before swirling into ice cream.
Coffee Fudge Swirl
Mix 1.5 tablespoons instant espresso powder with 2 tablespoons heavy whipping cream and mix to dissolve. Swirl into ice cream with 1/3 cup warm fudge sauce.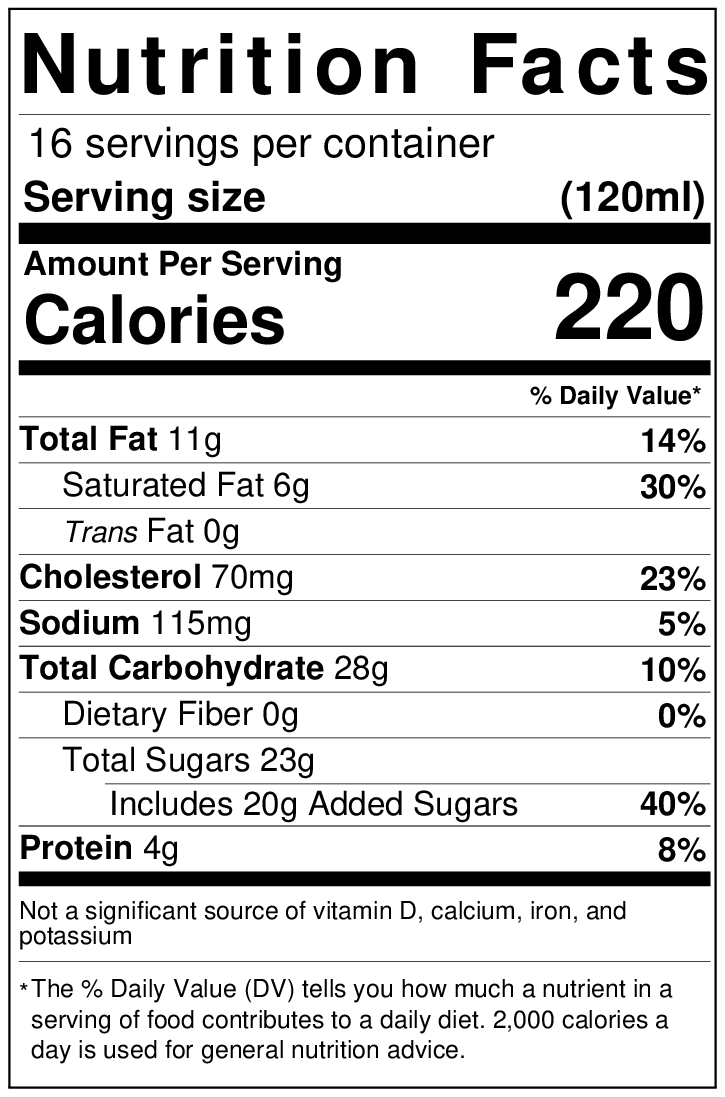 Ingredients: Milkfat and nonfat milk, cane sugar, corn syrup solids, egg yolks, mono and diglycerides, disodium phosphate, cellulose gum, guar gum, natural and artificial flavors, polysorbate 65, polysorbate 80, carrageenan.
Customers also added these items