#{title}#{text}
#{title}#{text}
#{title}#{text}
#{title}#{text}
#{title}#{text}
Marinated and fully cooked fajita spiced chicken breasts gets quickly sauteed with roasted peppers and onions. Warm, locally made flour tortillas get loaded with the mixture and topped with mild salsa verde and shredded Mexican blend cheese. Cooking time: 10 minutes. Suggested servings: 2 (3 tortillas per serving).
Instructions:
Place a large saute pan over medium-high heat. Add 1 tablespoon of oil then pre-heat for 1-2 minutes. Carefully add in the marinated chicken. Saute for 4 minutes stirring occasionally.

Now add in the green peppers and onions. Cook for 2-3 minutes more until the vegetables are browned and softened and the chicken is fully cooked. Taste and add salt and pepper, or a dash of cayenne for added spice.

As the chicken and vegetables cook, place the second large saute pan on medium heat. Add 1-2 teaspoons of oil and spread in the bottom of pan. Add 2-3 tortillas at a time to warm and soften, flipping after 1-2 minutes. Hold the warm tortillas in a clean kitchen towel. Please turn off all heating elements.
To assemble your fajitas: Top each tortilla with a spoonful of the chicken mixture, Salsa Verde, and cheese blend. Fold tortillas in half and enjoy!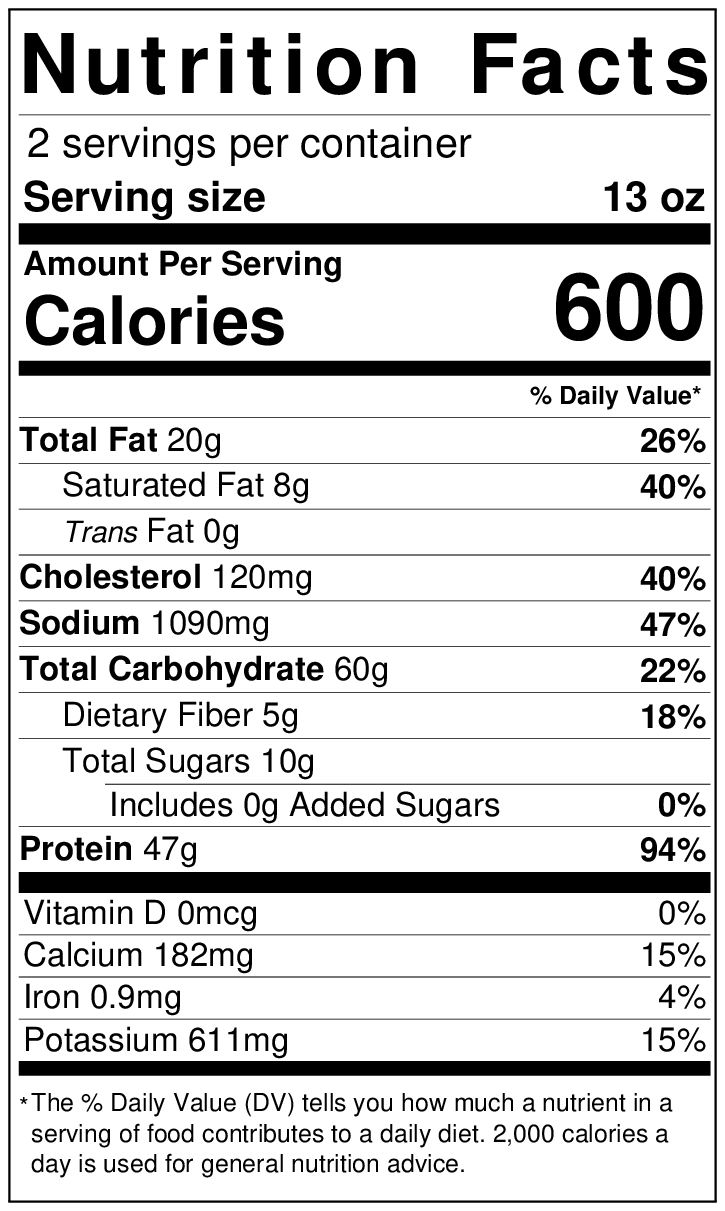 Ingredients:
Fajita Chicken: Chicken (up to 15% solution), water, canola oil, chorizo seasoning (salt, spices (including pepper and oregano), paprika, dehydrated garlic, natural flavoring (spice extractive), May contain up to 2% silicon dioxide to prevent caking)
Fajita Vegetables: onion, green and red bell pepper, contains less than 2% of citric acid, dehydrated garlic and onion, natural flavors, olive oil, salt, spices, sugar, yeast extract
Tortillas: Enriched high protein wheat flour, water, soybean vegetable shortening, functional ingredient blend (salt, sodium bicarbonate, calcium propionate, sodium aluminum sulfate, corn starch, mono- and dyglycerides, sugar, fumaric acid, potassium sorbate, monocalcium phosphate, rice flour, L-cysteine), vital wheat gluten
Cheese: Cheddar cheese (pasteurized milk, cheese culture, salt, enzymes, annatto (color)), monterey jack cheese (pasteurized milk, cheese culture, salt, enzymes), potato starch, corn starch, powdered cellulose (added to prevent caking)
Salsa Verde: yellow onion, garlic, jalapenos, canola oil, cilantro, salt, cumin, whole tomatillo, water, citric acid, and salt
Customers also added these items