#{title}#{text}
#{title}#{text}
#{title}#{text}
#{title}#{text}
#{title}#{text}
0
added to delivery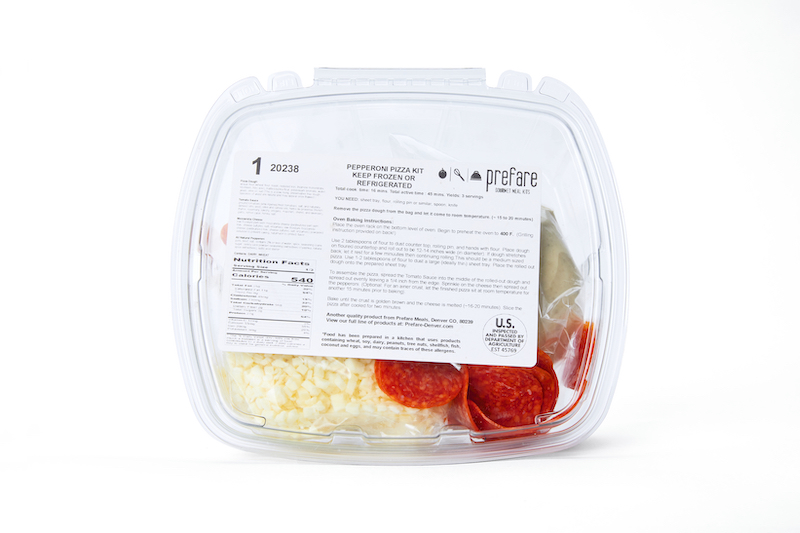 Prefare - Pepperoni Pizza Kit
$10.99
2-3 Servings
Build Your Own Pizza Masterpiece
We are excited to announce our parntership with PreFare Gourmet Meal Kits, and offer a Pizza Meal Kit option for our customers. PreFare is a local Colorado company that specializes in doing the prep work to help busy people cook delicious meals with incredible convenience and the least amount harm to the environment. This Pepperoni Pizza Kit is not only fun to put together, it is also delicious and serves 2-3 people depending on how big your slices are. Kit includes: pizza dough, sauce, cheese, and pepperoni.
Ingredients:
Pizza Dough: wheat flour, malted barley flour, potassium bromate, water, yeast, olive oil, salt
TomatoSauce: ground tomotoes, olive and canola oils, herbs de provence (french thyme, rosemary, savory, oregano, majoram, chervil, and lavender), garlic, lemon juice, honey, salt
Mozzarella Cheese: low moisture part skim mozzarella cheese, low moisture mozzarella cheese, powdered cellulose to prevent caking, natamycin to protect flavor
All Natural Pepperoni: pork, beef, salt, containts 2% or less of water, spice, seasoning (cane sugar, celery juice powder), seasoning (extractives of paprika, natural spice extractives), lactic acid starter.
Customers also added these items