#{title}#{text}
#{title}#{text}
#{title}#{text}
#{title}#{text}
#{title}#{text}
0
added to delivery
Out of stock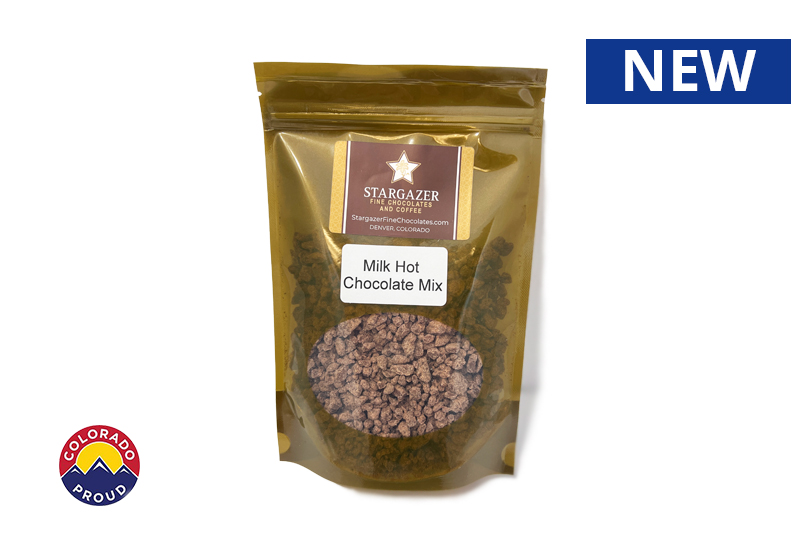 Stargazer Hot Chocolate Mix
Out of stock
Stargazer Fine Chocolates is a family owned and operated business located in Denver, Colorado specializing in the creation of handcrafted artisan chocolates and specialty items, which will delight your eyes and please your pallet. This hot chocolate mix consists of melt-in-your-mouth, milk chocolate shavings and pieces to spice up your next drink. Add to your favorite cup of warm milk to make it a decadent cup of hot cocoa!


In addition to our renowned hot chocolate mix, we offer a wide variety of traditionally prepared Fine Chocolates including handcrafted truffles, chocolate bars, hand dipped items and gifts for special holidays including Valentine's Day, Easter and Christmas. Our family welcomes the opportunity to share our delicious chocolate creations with you and your family!
Directions: Combine 1 cup of milk and 1/4 cup (1 oz) of chocolate in a small saucepan. Heat gently over medium heat whisking occasionally until chocolate is melted and milk is steaming and hot, but not boiling. Whisk vigorously to froth and pour into mug. Makes 1 serving.
Ingredients: Pure cane sugar, full cream milk, cocoa butter, cocoa beans, sunflower lecithin, vanilla beans
Customers also added these items