#{title}#{text}
#{title}#{text}
#{title}#{text}
#{title}#{text}
#{title}#{text}
0
added to delivery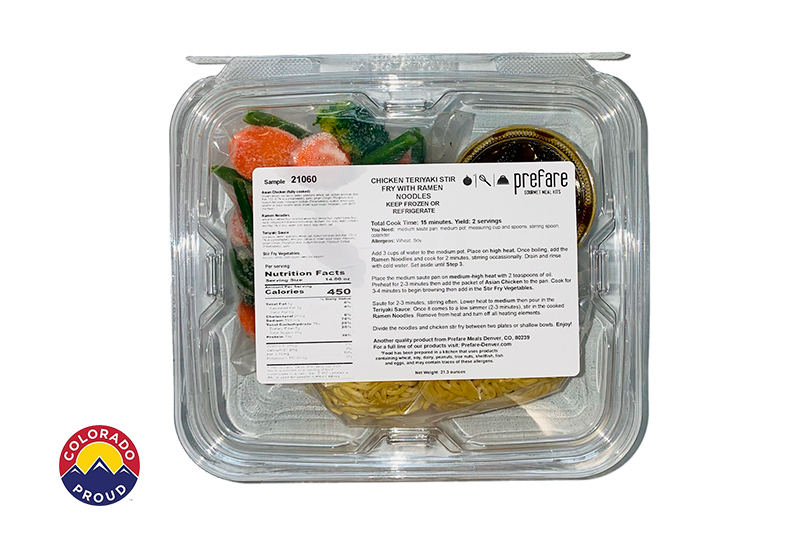 Prefare - Chicken Ramen Teriyaki
$13.99
2 Servings
The latest and greatest PreFare masterpiece
Moist and tender marinated chicken breast comes cut and fully cooked. Served with high quality ramen noodles, mixed vegetable blend and PreFare's very own house teriyaki sauce. This tasty meal is ready in less than 15 minutes.
Suggested servings: 2
Instructions:
Add 3 cups of water to the medium pot. Place on high heat. Once boiling, add the Ramen Noodles and cook for 2 minutes, stirring occasionally. Drain and rinse with cold water. Set aside until Step 3.
Place the medium saute pan on medium-high heat with 2 teaspoons of oil. Preheat for 2-3 minutes then add the packet of Asian Chicken to the pan. Cook for 3-4 minutes to begin browning then add in the Stir Fry Vegetables.
Saute for 2-3 minutes, stirring often. Lower heat to medium then pour in the Teriyaki Sauce. Once it comes to a low simmer (2-3 minutes), stir in the cooked Ramen Noodles. Remove from heat and turn off all heating elements.
Divide the noodles and chicken stir fry between two plates or shallow bowls. Enjoy!
Ingredients:
Asian Chicken (fully cooked): Chicken breast, soy sauce, garlic, ginger, scallion, lemon juice, sesame oil, black sesame seeds, brown sugar, cornstarch, chili flakes.
Ramen Noodles: wheat flour, water, contains less than 1% or less, water, cornstarch, sago starch, salt
Teriyaki Sauce: soy sauce, lime juice, canola oil, brown sugar, ginger, garlic
Stir Fry Vegetables: carrots, green beans, sweet bell peppers
Customers also added these items